Annual Enrollment Period 2022
What is AEP?
The Medicare Annual Enrollment Period – AEP for short – is a set time each year for changing your Medicare coverage choices if you choose to. AEP runs from October 15 to December 7. New coverage choices go into effect on January 1.
This the best time period to speak with one of our trusted and experienced agents in regards to what direction you should take with your areas options.
Things you can take advantage of include:
If you have Original Medicare, you can switch to a Medicare Advantage plan — or vice versa.
You can switch from a Medicare Advantage plan with drug coverage to one without — or vice versa.
You can join or drop a Medicare prescription drug plan.
You can also update your coverage by switching to a new plan from your current insurer or switching to a new insurer.
These changes would all be subject to what is available in your area and what your agent is able to show you.*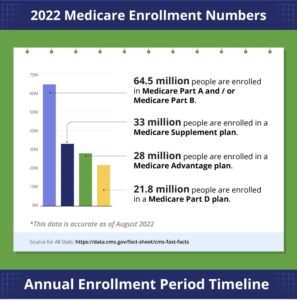 This graph shows the millions of Americans who are currently with Medicare and are just like you, and have the ability to check their options.
#Medicare #medicareadvantage #medicaresupplement #easymedicare